NUTS FOR COCONUTS! Fresh Coconut Water in 10 Steps
---
July 16, 2015
FOOD
---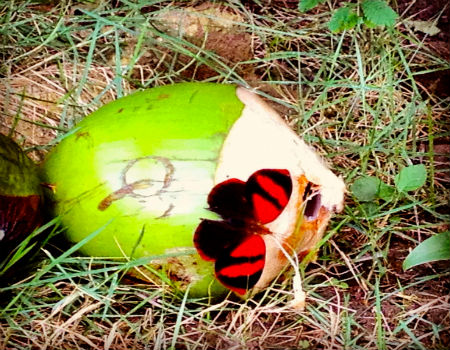 ---
10 Steps: How to Harvest Coconut Water in a Dominican Republic Backyard
By Vanessa Taranto
Fresh Coconuts. They are all around us. Just look up into the trees, nestled high above in their own canopy you will find them. They come in all shapes, colors and sizes. It is a plentiful site on the North Coast of the Dominican Republic. If you are lucky enough to have traveled or lived in a tropical area they become common place. I have come to know them as a symbol of Paradise. Growing up in the Canadian cold, I smile and feel happy when I see them. Some consider them dangerous (they can drop on your head), but for centuries they have been known as one of the most enriching foods known to man. Do you know that they were even used as emergency blood transfusions in WWII? What are they? Coconuts!

.
The Palm trees are full of coconuts just waiting to being cracked and opened to release their amazing nutrients held in their liquid and in the meat of the coconut.
.
So what are you waiting for? Watch this introductory video of how to Harvest Coconut Water from Fresh Coconuts.
---
.
.
.
Ten Steps for Harvesting that Magic Coconut Water
Follow these easy and safe steps below to harvest your own fresh coconut water. It is important to ask for help from a local who has knowledge of how to handle coconuts.
.
.
---
.
.
.
STEP 1 | Line up Your To

ols

: Secure a very tall pole, garden hose, machete, large bowl, large soup pot, strainer and a spoon.
.
.
 .
.
.
STEP 2 | Find Kn

owle

dgeable Help: Usually a local will have great coconut extracting skills and arrive with their very own machete). In my case, I asked the gardener for help.
.
.
.
Step 3 | The Dangerous Part

:

 Extend your pole to gain access to the coconut canopy and begin poking at the coconuts repeatedly until they become loose. Once loosened, be sure to move out of the way to avoid getting hit by the falling coconuts, as this could be deadly. Seriously! Continue this process until you have accumulated enough coconuts to fill a large soup pot.  (Approximately 40-50 coconuts). 
.
.
.
.
Step 4 | Gather

 Coconuts:

Gather and collect all the fallen coconuts and place them in a big pile.
.
.
Step 5 | Clean the Coconuts:

 Rinse each coconut with water to get rid of mud and dirt on the outside of the coconut before trying to extract the coconut water. Repeat this process until all the coconuts are thoroughly clean.
 ..
Step 6 | Open the Coconuts: Place coconut on the ground and begin using a machete to crack open the coconut.  To ensure that minimal water escapes when opening the coconut start cutting away at the top of the coconut to create a small opening.
 .
 .
 .
.
Step 7 | Strain the Coconut Water

:

 Pour the coconut water into your pot with your strainer placed on top to filter the coconut water from the debris.
.
.
 .
.
Step 8 | Fill & Chill

: Repeat Step 4 and 5 until you have filled your pot.  Once filled, place the pot in the refrigerator to cool and voila! You now have access 3-4 days worth of refreshing nutritious coconut water.
.
.
 .
.
Step 9 | Coconut Splitting

: With all the coconuts now drained of water you can take the machete and begin splitting the coconuts in half, allowing access to the young white meat inside.
.
.
.
.
.
Step 10 | Coconut Meat

:

 With a spoon carve out the white meat and place it in a bowl.  Repeat until you have gathered all the coconut meat. This coconut meat is young and hydrating, and contains many super nutrients.
---